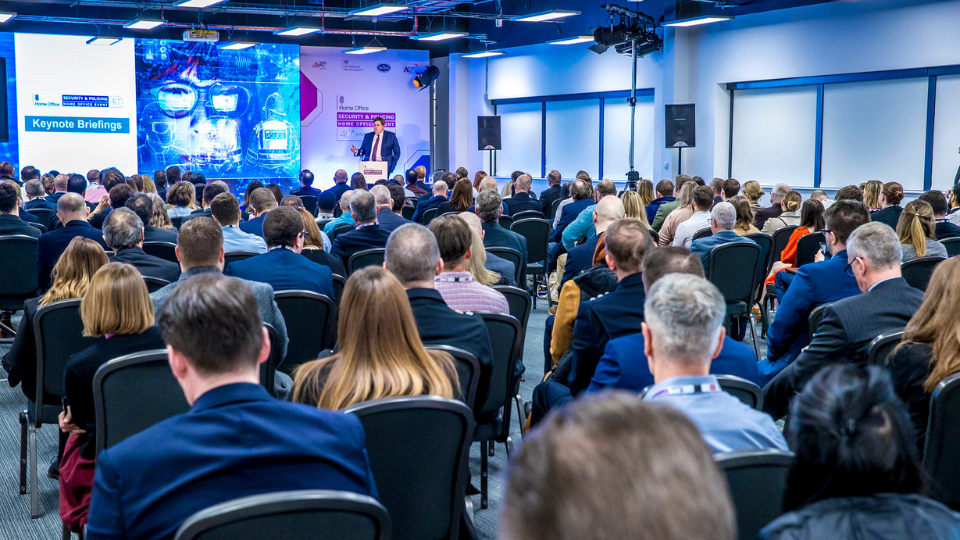 With one month to go to Security & Policing 2023, we are pleased to announce the outline speaker programme focused on three daily event themes of advancing national security and resilience, policing innovation and protecting our people and places.
The extensive programme of keynotes and sessions will be led by senior UK Government officials, policing officials and industry speakers across three theatres – the Keynote Briefing theatre, Fusion Forum and the new Innovation Zone.
(All times and speakers are subject to change and final confirmation.)
Tuesday 14 March – Advancing national security and resilience
The opening day will be focused on advancing national security and resilience and will feature two security-themed keynotes led by UK Government Ministers or senior officials. Tuesday will also host the ADS Security Innovation Award Grand Final in the Fusion Forum, as well as a range of Government and industry presentations in both the Fusion Forum and new science and technology centred Innovation Zone.
Wednesday 15 March – Policing innovation
The day two programme is built around the theme of policing innovation, with a policing and justice keynote from a UK Government Minister of senior official and operational policing keynote from a senior UK law enforcement official.
The Fusion Forum will welcome policing presentations and intimate 'audience with' sessions featuring:
Professor Jennifer Rubin Director General Science, Technology, Analysis and Research (STAR)
Professor Paul Taylor, Chief Scientific Advisor, National Police Chiefs' Council (NPCC)
Chief Constable Andy Marsh, College of Policing, CEO
Ian Bell, Police Digital Services, CEO
Ch/Supt Matt Lawler, Head of National Police Coordination Centre
Asim Hafeez – Director, International Police Assistance Service, Home Office
Nick Fowler – Director of Border Force International Operations
Plus, the Fusion Forum will host an Industry Challenge on the Management of Sexual or Violent Offenders (MOSOVO) – find out more.
The Innovation Zone will feature presentations from:
Zale Johnson, National Contact Point & Global Innovation Lead – Security, Innovate UK
Lisa Slack, Operations and Technical Services Manager Forensic Information Database Service.
Rachel Tuffin, Director of Research and Education, College of Policing
Sarra Fortheringham, Policing Standards Manager (Digital & Cyber), College of Policing
And more from a variety of participating Government departments.
Thursday 16 March – Protecting our people and places
Content on the final day will be themed around protecting our people and places.
Thursday will see the Fusion Forum host a presentation on Martyn's Law from Shaun Hipgrave, Director of Protect & Prepare, Homeland Security Group, Home Office, as well as a panel session on Martyn's Law and the Protect Duty.
Other Fusion Forum speakers will include:
James Clarke – Director of Business & People Planning, Home Office
Simon Kitching, Director, Strategic Capabilities & Planning, Border Force
Ian Pears, Chief Technology Officer, Joint Maritime Security Centre
Angela Essel, Head of Unit JSaRC
Jon Gray, ADS Director Security and Resilience
The Innovation Zone will host presentations from the Defence Science and Technology Laboratory (Dstl) and the Defence and Security Accelerator (DASA), as well as a panel session on Knife Detection and a presentation on Disrupting Hostile Mindsets and Operation Bridges given by a UK Government official.
The final day will also host the National Counter Terrorism Security Office (NaCTSO) Business Conference: NaCTSO's Response to the evolving threat to Publicly Accessible Locations. 
The programme has been formally recognised as professional development where you can claim accredited CPD points with our partners The Security Institute for attending sessions at Security & Policing.
Register to attend now
Free visitor registration is now open for Security & Policing 2023 – the Official UK Government Global Security Event – which returns to the Farnborough International Exhibition and Conference Centre between 14-16 March 2023.
Security & Policing remains a closed event and all visitors are subject to Home Office approval and visitor criteria.
Enquire to exhibit
There is still time to join world-leading suppliers and service providers that have already booked their place at Security & Policing 2023.
Regardless of your company size, Security & Policing provides one of the world's leading platforms for exhibitors to showcase the latest security and resilience technology and innovations to influential buyers and partners.
Find out more about exhibitor packages
Security & Policing remains a closed event and all exhibitors subject to Home Office approval and exhibitor criteria.