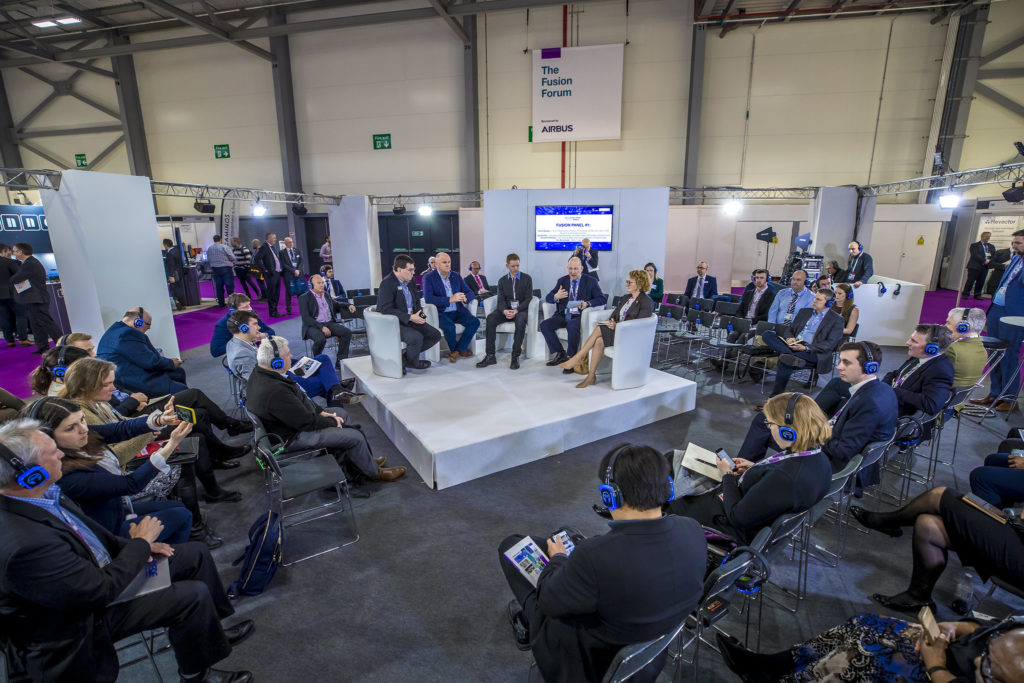 Returning by popular demand, the Fusion Forum is designed to promote new and integrated ways to delivering security solutions across government, industry and academia.
Deliberately designed to be accessible to all visitors and exhibitors alike and serving as our central 'thought leadership' hub at S&P, the Fusion Forum is a centrally located, interactive and accessible 'theatre' on the main exhibition floor.
With a full programme to be announced later in 2021, the Fusion Forum at will once again include a blend of exciting content to include keynote addresses, panel sessions and live industry challenges designed to allow exhibitors the opportunity to present their ideas on the most pressing national security challenges of the day.
The UK's National Security Strategy continues to place a strong emphasis on delivering a 'joined-up' approach to national security and the need to fully integrate multiple private sector contributions into, and at all levels, of the country's approach.
Private sector contributions to security have been a consistent feature of the UK's counter-terrorism strategy, CONTEST, and the importance of these have also been expressed within the 'Fusion Doctrine' introduced in the 2018 National Security Capability Review, and developed under the leadership of the National Security Adviser.
View last year's Fusion Forum Schedule 2021:
Tuesday 9 March 2021
11:15-12:15
ADS SECURITY INNOVATION AWARD GRAND FINAL
Pitches from the finalists & judging. Judging Panel:

Michael Clayforth-Carr (VP Security and Resilience Sector, ADS, Panel Chair)
Andy Caldwell (Head of Defence and Security Accelerator, Ministry of Defence)
Angela Essel (Head of the Joint Security and Resilience Centre, Office of Security and Counter Terrorism, Home Office)
Simon Harwood(Chair Academic RISC, Director Defence and Security at Cranfield University)

13:00-14:00
FUSION PANEL #1

Innovations in the UK's Approach to Cyber Security
Panellists:

William Middleton (Cyber Director, Foreign, Commonwealth and Development Office)
Andrew Gould (National Cybercrime Programme Lead, National Police Chiefs' Council)
Chris Ensor (Deputy Director for Cyber Skills and Growth, National Cyber Security Centre)
Richard Quinlan (Chair of ADS Digital and Cyber Group / Head of Sales and Business Development, Leonardo UK)
Chaired by Dr Henry Pearson (UK Cyber Security Ambassador)

15:00-16:00
S&P CHALLENGE #1
A panel discussion on the challenge:
Protecting National Security and the Safety of Children on an Encrypted Service
Outline an action plan for developing and operationalising technology that would allow a company to maintain the ability to identify illegal child sexual exploitation and abuse or terrorist content and activity at scale in an encrypted service. This plan could assume the work is being carried out and funded by the encrypted service itself, or by a third party such as a device or operating system. Panellists include:

Simon Clifford (Director of Data and Digital, Police ICT)
Andy Burrows (Head of Child Safety Online Policy, NSPCC)
Susie Hargreaves (Chief Executive, Internet Watch Foundation)
Ian Stevenson (CEO, Cyan Forensics)
Chaired by Piers Harrison (Combating Online Child Sexual Exploitation, Tackling Exploitation and Abuse Unit, Serious and Organised Crime Directorate, Home Office)
Wednesday 10 March 2021
10:00-10:30
FUSION KEYNOTE
Jessica Figueras, Vice-Chair, UK Cyber Security Council
A keynote on the new Government funded body set up to promote skills in cyber security.

11:45-12:35

FUSION PANEL #2
Enhancing Security Culture at Publicly Accessible Locations
This panel will bring together members of Government and Industry to discuss how fostering a good security culture in businesses and the wider public can make staff and customers safer. It will include a focus on how small changes can deliver significant improvements in public protection.Panellists include:

Allan Burnett (Operations Director, SecuriGroup)
Adam Thomson (Deputy National Coordinator Protect and Prepare, Counter Terrorism Policing HQ)
Paul Williams (Head of Security, The O2)
Dr Anne Templeton (University of Edinburgh)
Chaired by Shaun Hipgrave (Director Protect and Prepare, CBRNE, Science and Technology)

12:45-13:15
'AN AUDIENCE WITH'
Dame Lynne Owens CBE QPM, Director General of the National Crime Agency
1-2-1 interview hosted by Richard Johnstone (Acting Editor of Civil Service World)
15:00-16:00
S&P CHALLENGE #2
Pitches from

CCL Solutions Group Ltd
Cellebrite
Blue lights Digital

against the challenge set before event:

Digital Forensics for the Next Generation of Communications
What will the next generation of personal communication devices provide that the current generation does not and how can these tools be exploited for forensic and investigation and/or law enforcement and security purposes?

Panellists include:

Christopher Church (Interpol)
Mike Excell (OSCT, Home Office)
Claire Summers OBE (National Digital Capabilities Office)
Chaired by Dr Neil Cohen (DSTL)
Thursday 11 March 2021
10:00-10:30
FUSION KEYNOTE
Overseas Speaker, William Bryan, Under Secretary Department for Homeland Security S&T

11:45-12:35

FUSION PANEL #3
The Prosperity Pipeline
This panel will bring together members of Government and Industry to discuss how we translate UK national security requirements into UK export opportunities. Panellists include:

Mark Goldsack (Director, Department for International Trade UK Security and Defence Exports)
Sir Kevin Tebbit (Chair, the UK Security and Resilience Industry Suppliers Community)
Elizabeth Sheldon (SME Rep – Security and Resilience Growth Partnership)
Tom Hurd (Director General, Office of Security and Counter Terrorism, Home Office)
Chaired by Jon Gray (Director Security and Resilience Sector ADS)

12:45-13:15
'AN AUDIENCE WITH'
Tom Hurd, Director General, Office for Security and Counter-Terrorism
1-2-1 interview hosted by Beckie Smith (Acting Deputy-Editor of Civil Service World)
13:30-14:30
S&P Live Challenge #3:
Pitches from

Angoka
Drone evolution
INO
Leonardo

against the challenge set before event:

New Technologies – Considerations for Border Force
As Border Force takes advantage of new technologies, how can the UK become 'best in class' and what criteria should be used to assess this, taking into account GDPR privacy concerns and other ethical questions such as the safeguarding of vulnerable people?

Panellists include:

Christian Kaunert (Professor of Policing and Security, University of South Wales)
David Barofka (Director, Border Force Data Acquisition & Detection Capability)
Chaired by Jon Gray (Director Security and Resilience Sector, ADS Group)

15:00-15:30
CLOSING REMARKS
Angela Essel (Head of JSaRC) and Jon Gray (ADS Director Security and Resilience)
Reflections on S&P 2021