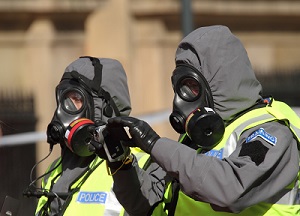 Follow the evidence with JSaRC, the National CBRN Centre and the National Crime Agency as you respond to a suspected hazardous substance incident.
The scene has been set. Police receive a report of suspicious activity at a residential address where a strange smell raises concerns for initial responders. Intelligence suggests it could be the site of an illicit laboratory.
As a responder, you will venture into the property with your fellow officers to learn about the roles and responsibilities of those attending the scene. Staying safe will be your greatest concern, so you will explore the challenge of ensuring their personal protection against maintaining the integrity of the evidence.
Focussing on the crime scene management of a CBRN incident, you will gain insight into how the crime scene is safely examined to gather evidence. You will learn about:
the process of assessing the severity of the incident
how technology is used to identify the chemicals present
the techniques used to capture and preserve forensic evidence safely in a challenging environment
Cutting-edge technologies and products will be demonstrated throughout.