Since 1993, Evidence Talks have built considerable experience and a reputation for providing digital forensic investigation services, specialist training, as well as developing innovative technologies for overt, covert and clandestine exploitation of digital devices for government, law enforcement and military customers.We combine our digital forensic skills with an in-house, agile development capability to lead the market in digital forensic triage and device exploitation technologies, developing award winning solutions for the police, military and government sectors.Products include SPEKTOR Forensic Intelligence, Remote Forensics, and Cascade Forensics. Our services include data recovery and forensic investigations. Training courses include Digital Exploitation, Covert Data Collection, Forensic First Responder, Digital Forensic Triage, and many more.
Address
Willen House
Emerald Gate
Tongwell Steet
Fox Milne
Milton Keynes
Buckinghamshire
MK15 0YS
United Kingdom
Telephone
+44 (0)1908 597960
Website
www.evidencetalks.com
New Product Launch
SPEKTOR Kiosk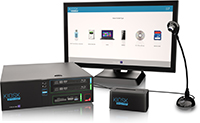 Easy to use, enabling frontline, non-forensic investigative users to perform a fast and forensically sound capture and review of data from digital devices, including computers and external storage media. High performance computing platform allows review of results within moments. Flags priority data and ignores unwanted content .
Kiosk allows for different user levels (Level 1, Level 2 and Administrator) and full SPEKTOR capability is available for all authorised users. Training via an online system means that users can be trained at lower cost and at a convenient time for them.
Back to Exhibitor List