Sure Antennas specialise in the design and manufacture of covert vehicle antennae for radio communication applications. A UK manufacturer with over 30 years of expertise in this field, our RF Design Team has created a portfolio of OEM vehicle antenna variations that can be modified to transmit all common frequency bandwidths, either on a single or multichannel basis, whilst retaining all standard OEM features. Uniquely, we utilise and modify the vehicle's existing OEM panel mounted antenna to your desired bandwidths from 70Mhz to 5Ghz, therefore not interfering with the physical outer appearance and anonymity of a vehicle deployed for surveillance purposes.Sure Antennas portfolio also includes semi-covert applications and a complete range of high performance peripherals including diplexers, multiplexers and phasing units. Furthermore, we offer a bespoke design service from prototype to manufacture
Address
6 Woodway Court
Thursby Road
Birkenhead
Merseyside
CH62 3PR
Uniited Kingdom
Telephone
+44 (0)151 334 9160
Website
www.sure-antennas.com
New Product Launch
ESN Multi-function Wideband MiMo OEM Sharkfin Antenna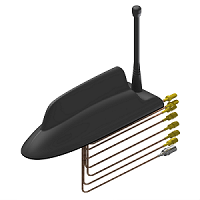 Known as the 'Mallard' we are delighted to launch this OEM sleek styled compact sharkfin antenna at the Security & Policing EXPO 2018.
Its robust exterior houses 2x ultra wideband antenna elements supporting 700MHz to 6GHz with a minimum 4dBi gain across the whole band.
Designed as a multi-function antenna you have the additional options of a MiMo Dual Band WiFi function, 2x GPS/GNSS Ports and support for an optional whip, to provide many frequency options including Tetra, WiFi or LTE for an additional connection to help your ESN transition.
With a single whole installation, and so many potential frequency functions on offer, this antenna would help reduce installation costs and protect your vehicles resale value by helping to future proof your vehicles installation.
Available with a wide range of custom low loss coax extension cables.
Back to Exhibitor List