Cunning Running Software Ltd delivers specialist geospatial threat vulnerability assessment tools, supporting UK law enforcement, counter-terrorism, and military agencies.The innovative software solution is used by both UK Police and Military, and internationally by the US TSA, Australian Federal Police, Moroccan Police, German, Australian, French, and Canadian Air Forces, amongst others. As a Defensive Event tool, it produces detailed Stand-Off Weapon and Counter Drone Vulnerability Assessments, aiding the mitigation of terrorist attack locations. It is used for Counter MANPADS Assessments at major airports around the world. The software identifies weapon firing points, drone control and launch areas around a designated target, crowded place or critical national infrastructure. Consequently, it assists security teams in carrying out effective and systematic searches of specific sites.Police Search Advisors use the software for locating missing persons. Visually realizing the task allows teams to accurately search, record and share spatial areas of interest.
Address
Bell House
32 Bell Street
Romsey
Hampshire
SO51 8GW
United Kingdom
Telephone
+44 (0)1794 834750
Website
www.cunningrunning.co.uk
New Product Launch
Counter Drone Vulnerability Assessments (CDVA)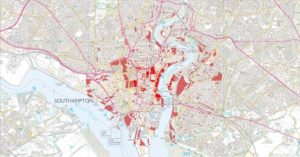 Cunning Running Software Ltd (Stand C90) have launched a Counter Drone Vulnerability assessment service. This assists Police or other security personnel to understand the most likely areas where illegal drone flights might occur so that they can be mitigated by patrols, observation, denial or siting counter-drone equipment. Building up to this launch we have assisted Police at sporting venues, a major defence installation, a commercial harbour and major public events. The service enables forces who are not equipped with our CTS-PRAS software or do not have the resources to dedicate to counter-drone analysis, to call on our expertise to fill the gap quickly and cost-effectively. All our staff that carry out CDVA are cleared to at least SC, and are from military or police backgrounds. As the threat from drones increases, so will the requirement to plan against and mitigate that threat.
Back to Exhibitor List