Emergency Protection is the exclusive UK sales partner for Wrap Technologies and their revolutionary Bolawrap non-pain compliance restraining device, along with SWORD by x.labs who are launching the worlds first mobile based threat detection solution that sits in a small and portable ruggedized tablet giving officers and other security teams the ability to scan and detect concealed knives and guns whilst on patrol or in a building. It also combines facial recognition and acoustic gunshot detection in the same tablet, helping to secure venues from blacklisted individuals. Come and meet the business owners and try out the Bolawrap Virtual Reality training system and discuss how we can help you reduce knife and gun crime and restrain suspects from a safe distance. Bolawrap is also particularly relevant when you need to restrain a vulnerable person in a mental health crisis or under the influence of drugs / alcohol.
New Product Launch
Bolawrap 100 remote restraint device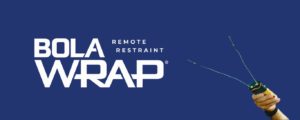 Emergency Protection will be showcasing the Bolawrap 100 remote restraint device for the first time at Security & Policing 2020. This innovative tool does not require pain compliance like a baton, taser or PAVA spray, and can quickly help a police officer de-escalate a potentially violent situation or safely restrain someone in a mental health crisis or under the influence of drugs or alcohol. This can all be achieved from a safe distance, particularly important if someone is carrying a knife or other weapon. Bolawrap is generating huge interest with a number of Police forces now using it globally either in field trials or on live patrol. Come and meet Tom Smith, President of Wrap technologies and ex co-founder of Taser, along with Lee Leatherman, Wrap technologies Director of Training and retired LA County Police force who will be discussing and demonstrating the benefits of Bolawrap.
Back to Exhibitor List