Foster + Freeman are innovators in the design and manufacture of systems for the examination of questioned documents, latent fingerprints, trace evidence and shoe prints. Established in 1978, Foster + Freeman has become one of the foremost forensic science equipment suppliers in the world, exporting market-leading and in many cases, unique products to more than 170 countries.Our products are designed to assist in finding evidence at scenes of crime and in performing detailed forensic investigations in the laboratory. Our customers include all major police and forensic science laboratories as well as government agencies, commercial and private organisations such as homeland security, immigration authorities, security printers, lottery companies, insurance companies, university departments and national libraries.With offices in the UK and the USA and a global network of agents and distributors, Foster + Freeman are able to provide customers with a high level of technical support, installation and training.
Address
Vale Park
Evesham
Worcestershire
WR11 1TD
United Kingdom
Telephone
+44 (0)1386 768050
Website
www.fosterfreeman.com
New Product Launch
Crime-lite AUTO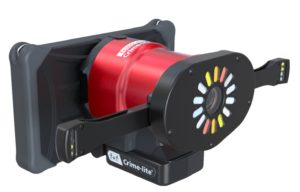 Full Spectrum UV-Vis-IR Camera with 55 Wavebands of Illumination
Introducing the first in a new generation of forensic search and detection tools.
Combining the latest forensic imaging technology with high-intensity multi-spectral illumination, the new Crime-lite AUTO is a complete solution to the search, detection and capture of evidence.
A compact handheld device, with the weight and feel of a pro-grade digital camera SLR camera, the Crime-lite AUTO can reveal evidence including, body fluids (semen, saliva, and urine etc.); blood on dark fabrics;
fingerprints; gunshot residues; and traces of physical evidence (glass, fibres, hairs, etc.)
Crime-lite AUTO product features:
Precision Imaging Camera
Document evidence at the crime scene using a UV-IR sensitive camera with image stabilisation and autofocus macro lens.
UV-Vis-IR Illumination
Utilise up to 55 waveband combinations to detect a wide range of evidence types. Search beyond the visible spectrum using UV, Vis, and IR wide-angle lighting.
Intelligent Interface
Simply controlled, with intelligent filter selection the Crime-lite AUTO's integral touchscreen interface.
Back to Exhibitor List